From: Sun <s4ndeep1203_at_gmail.com>
Date: Mon, 4 Jan 2016 16:32:27 +0400
Hello,
Thank you for replying to my email after your CEO forwarded it to you even
though I sent the mail to this email address also.
Please be advised that this is NOT a centralized problem, and my phone
number will not help investigate the matter. You can ping twitter.com from
your location and check if you are getting reasonable latency. I tested
this on other locations and the result are the same. I will hence
re-iterate my question, why is twitter.com so slow on myT. High latency
makes the website very tedious to use. Whereas google.com has an excellent
ping of 23ms.
Is Mauritius telecom aware of this issue, and what are the steps that will
be taken to solve this. I am copying this email to your CEO and the
Mauritius Internet Users mailing list for transparency purposes.
As a matter of courtesy, I will send my fixed phone number and contact info
in a private email which will follow this one.
Thanks and Regards,
*RAMGOLAM Sandeep*
*Front-end Developer - Designer - Web Enthusiast - Gamer**Website :*
barfii.net <
http://www.barfii.net
>
On 4 January 2016 at 11:34, contact <contact_at_mauritiustelecom.com> wrote:
>
>
> Our Ref: 11831896
>
> Dear Mr Sandeep Ramgolam
>
> I acknowledge receipt of your below email.
>
> Grateful to provide your fixed telephone number and your contact details
> in order to investigate.
>
> I shall follow up and revert back as soon as possible.
>
> Yours Sincerely
>
> Mrs Quenette
>
> ------------------------------
>
> *From:* CEO
> *Sent:* 04 January 2016 10:50
> *To:* Sayed Hassen
> *Subject:* FW: Twitter.com is very slow on myT
>
>
>
>
>
>
>
> *From:* Sun [mailto:s4ndeep1203_at_gmail.com]
> *Sent:* 31 December 2015 19:09
> *To:* contact; CEO
> *Cc:* mauritius-internet-users_at_lists.elandnews.com
> *Subject:* Twitter.com is very slow on myT
>
>
>
> Hello,
>
>
>
> I noticed that browsing twitter.com is a pain on my home connection. When
> I tried to ping twitter.com i get 400+ms responses.
>
>
>
> When I ping google.com i get around 20ms.
>
>
>
> I have a myT 512kbps connection.
>
>
>
> Is it normal to get such I latency on the popular social media twitter.com
> in Mauritius? Most of the time image uploads fail.
>
>
>
> [image: Inline images 1]
>
>
>
> I am copying this email to the Mauritius Internet Users mailing list.
>
>
> Thanks and Regards,
>
> *RAMGOLAM Sandeep*
>
> *Front-end Developer - Designer - Web Enthusiast - Gamer*
>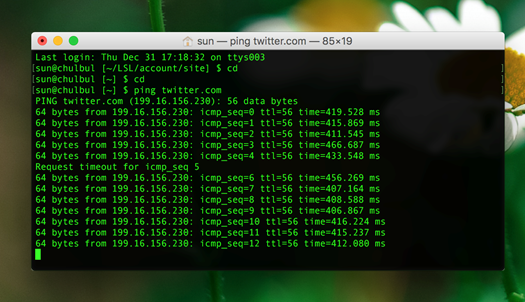 (image/png attachment: image001.png)
Received on Mon Jan 04 2016 - 12:33:03 PST